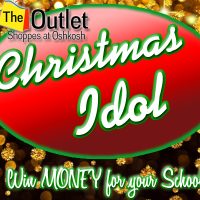 OUTLET SHOPPES AT OSHKOSH HIGH SCHOOL IDOL CONTEST
The Outlet Shoppes at Oshkosh and Sunny 97-7 are giving your high school an opportunity to win $1,500 for your music department. Here's how:
Send a recording of one Christmas or Holiday songs to the email address below. Your song will be featured on line and possibly on air in late November and early December. Voting for the "best" entry will take place on line between December 2 and December 5. The top five schools will all win $500.
To claim your $500 the school would need to perform for 30 minutes at the Outlet Shoppes at Oshkosh between December 9 and December 16 at a time agreeable to the school.
The school that receives the most votes on site will win an additional $1,000 for their school.  *If any of the top 5 choose not to perform, they will forfeit their prize and the school finishing in 6th place would be asked to perform, compete and win the prize.
Send your entry by November 20th to drew@wfdl.com