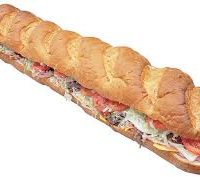 THE SUPERSUB SELLDOWN IS BACK FROM THE ST. PETER LIONS CLUB!  IT'S A FRIENDLY COMPETITION
BETWEEN OUR RADIO PLUS RADIO STATIONS AND THE WINNER IS YOU…ALONG WITH SOME GREAT
LOCAL CHARITIES.  JOIN US ON SATURDAY FEB 2ND AS GREGG OWENS BROADCASTS LIVE, REPRESENT-
ING "THE SOURCE" FROM PIONEER RD PICK & SAVE…NICK RUSCH, REPRESENTING SUNNY 97-7 WILL
BE AT FESTIVAL FOODS, AND JASON MANSMITH FROM 95 & 96-1 THE ROCK WILL BE AT THE JOHNSON St.
PICK & SAVE LOCATION. THEY'LL EACH TRY TO SELL OUT OF 100 YARDS OF SUB SANDWICH FIRST!
THE SANDWICH IS MADE FRESH THAT DAY BY THE ST. PETER LIONS CLUB AND WOULD BE PERFECT FOR
LUNCH, OR FOR YOUR PARTY FOR THE BIG GAME THE NEXT DAY.  PROCEEDS BENEFIT LION'S PRIDE
YOUTH CAMP, THE SALVATION ARMY AND THE ARC OF FOND DU LAC.  IT'S A GREAT TIME AND A GREAT
SANDWICH…HELP THE ST. PETER LIONS CLUB HELP LOCAL CAUSES WITH THE SUPER SUB SELL-DOWN
FROM THE ST. PETER LIONS CLUB, AND (SUNNY 977) (THE SOURCE)(96 & 961 THE ROCK) !