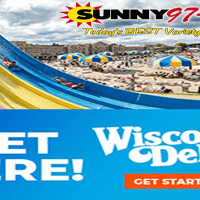 WISCONSIN DELLS SEASON OPENER CARDS ARE HERE!
GET INTO NOAH'S ARK, MT. OLYMPUS, TOMMY BARTLETT, PIRATE'S COVE, AND MUCH MUCH MORE…FOR FREE!
WHERE +  HOW TO GET THEM:
PIONEER PIT STOP ( 20 E Pioneer Rd, Fond du Lac) (buy 10 gallons of gas)
BUTCHERS BLOCK ( 221 Fond Du Lac Ave, Fond du Lac, AND 400 Prospect Ave,  North  Fond du Lac) (spend $20 and get 2 cards)
HIGHWAY 151 AMOCO (Across from The Fondy Sports Complex) (buy 10 gallons of gas, get 1 card)
Ledgeview Lanes- (170 Prairie Rd, Fond du Lac) ( Buy 2 games on Saturdays- get a card)
STAY TUNED TO SUNNY 97-7 AND 95+96.1 THE ROCK FOR UPDATES ON WHERE TO GET THESE GREAT DELLS SEASON OPENER CARDS. CARD LIMIT RESTRICTIONS MAY APPLY.
LIMIT TWO CARDS PER FAMILY PER HOUSEHOLD PER OFFER PER WEEK. GOOD WHILE SUPPLIES LAST.