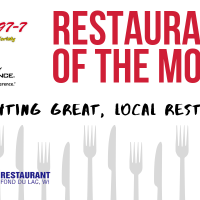 Sunny 97-7 and Society Insurance want to recognize the great locally owned restaurants in the east central Wisconsin area. Listeners will be able to nominate one of their favorite area restaurants to be featured as our restaurant of the month. Whether they're, big, small, well established, or brand new, we want to hear from you on who you think deserves this recognition to have their menu, info, story, and history  shared on the air, on line, and on social media.
Congratulations to our Society Insurance  Restaurant of the Month in May- Schreiner's Restaurant.
Check out these cool facts about them:
-Schreiner's Restaurant was founded in 1938 by Albert and Regina Schreiner.
–Albert and Regina's son Bernard (Bernie) and his wife Maureen ran the restaurant from the 1960's until 1992 when they sold it to current owners Paul and Joan Cunningham.
-Paul Cunningham started working for Schreiner's as a bus boy in 1970 working his way through every position in the restaurant eventually purchasing it with his wife in 1992.
-The popular Bernie's Bloody Mary was named one of the 10 best Bloody Mary's in the state.
-Half the  staff have been with us Schreiner's for over 20 years!!!
TO SUBMIT YOUR FAVORITE AREA RESTAURANT- FOLLOW THE LINK HERE