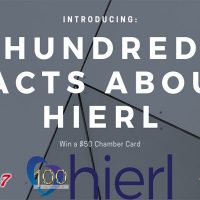 Were helping Hierl Insurance celebrate 100 years of business with "Hundred Facts About Hierl." Starting on July 15th, listen  for Gregg Owens to give out an awesome fact about Hierl each Monday through Thursday. Then, listen in during the 1 o clock hour and Terry Davis will ask for listeners to call in and give us the fact that Gregg gave out earlier in the day. If you get it right, you get a gift certificate to take to Baker Cheese in St. Cloud to redeem for 2 whole pounds of award-winning string cheese .Plus, you will be placed in our random drawing for a $50 chamber card from Envision Greater Fond du Lac, that we will draw for on Fridays. 
Call sunny 97.7 and 920-926-9797
See our official contest rules here
Congratulations to our week one winner, Pat Simon, he win's a $50 chamber gift card from Envision Greater Fond du Lac!