The goal is to give small businesses some exposure. Thanks to Bristol Morgan Bank that opportunity starts here.
Past Guests of our Small Business Saturday
July 21: Johnson Chiropractic Health Center
June 23: Breakfast on the Farm
May 12: Oshkosh Convention Center
April 28: Midwest Overhead Door
November 18: Cecilia Harry from Envision Fond du Lac
November 11: Todd Snow from Snow Links 
November 4: Rita Marsh from Waupun Craft and Vendor Fair
Sign your business up for a free interview to air on two different stations. The interviews are set to air on Sunny 97-7 and AM 1170 at 8:00am on Saturday mornings.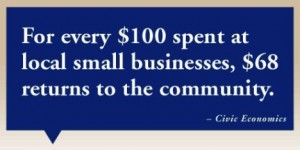 Businesses can go to our website and sign up to have a free interview and free radio exposure.
Sign up below!