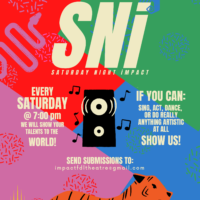 Join us as we help bring you "Saturday Night Impact," a one hour variety show featuring  live and local talent.  
"Saturday Night Impact" showcases performers with Impact Theater along with community contributors.  
If you'd like to submit your talent for possible inclusion in the program, simply search Impact Theatre on Facebook or Email impactfdltheatre@Gmail.Com   
Saturday Night Impact is taking your talent submissions right now. Saturday Night Impact! 
Watch from your home this Saturday night at 7pm. Go to radioplusinfo.com
Brought to you by Record Entertainment DJ Service-All The Music, All The Fun!
NOTE:  Impact Theatre is a newly forming non-profit theatre company in Fond du Lac that is aiming to do fearless art for the community with the community. We plan to work with other non-profits and businesses in Fond du Lac to bring voices to all demographics. People can expect to see art from various community members, and positive entertainment to help carry people through these difficult times.