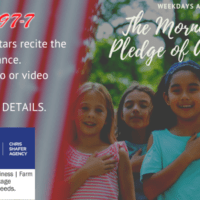 Join The Morning Sun each weekday morning at 6:35am as area stars recite the Pledge Of Allegiance on Sunny 97.7. The pledge can be recited by kids, families, grandparents, whoemever!  Sponsored by Chris Shafer Agency, Representing Farmers Insurance and many more – https://www.facebook.com/chrisshaferagency/
Please follow this format when submitting your audio or video recording (or leave your recording at 920-924-9697 x 150) :
Hi, I'm ____(name)____ from (if you have a school and grade) _______(or the city you're from); recite the Pledge of Allegiance.
Email your recording to nickr@wfdl.com