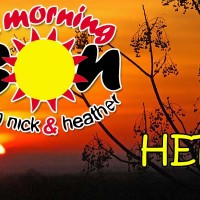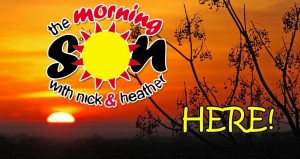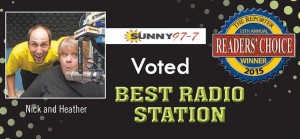 Their undeniable chemistry is instantly relate able, making the listener feel as if they are spending the morning with family.-that nutty nephew and crazy aunt!
For nearly ten years, Nick and Heather on The Morning Sun have been entertaining and informing listeners every week day from 6:00am-9:00am.  News, weather, sports, breaking news and of course all the wild human interest stories and wacky facts that you may not have heard about, are shared in their own crazy Nick and Heather way!
Nick, married father of two children,  who gets little or no sleep thanks to changing diapers and children crawling into bed with them-brings his funny relatable stories of life as a young husband and father to the air.
Heather, a married menopausal Mom of a high school er and two College kids, between hot flashes brings her own hilarity to the table.
Together, along with award winning news, this award winning show will help start  your day off in a fun positive way!
[episode id=306]